SZYM Paladin 7
Available for purchase right now on the Marketplace or at the Prototype Gardens Mall.
Buy on Marketplace and leave a review to get a 10% rebate automatically!
Retail Price
L$2,985
Available to all customers.
Includes 2DR Medium, Long, XL Chassis, and XXL Chassis; 4DR Short, Medium, and Long packages, and free updates for the life of the product.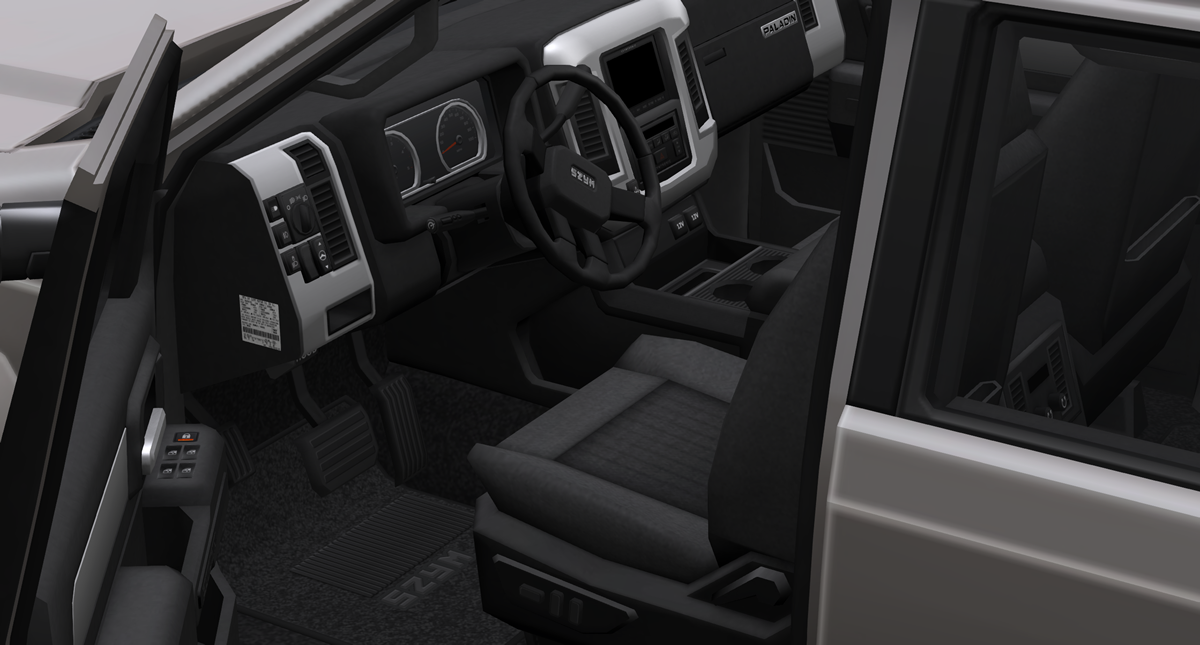 No betas.
No groups.
No problem.

You're not paying for a beta - we only sell finished products. You're getting everything that's gone into the Paladin in one simple package - no separate versions, no prereleases, no confusing exclusivity - all for less than the leading competitor.

Plus, your new Paladin can be updated anywhere, anytime - you don't have to pay to join a group for updates.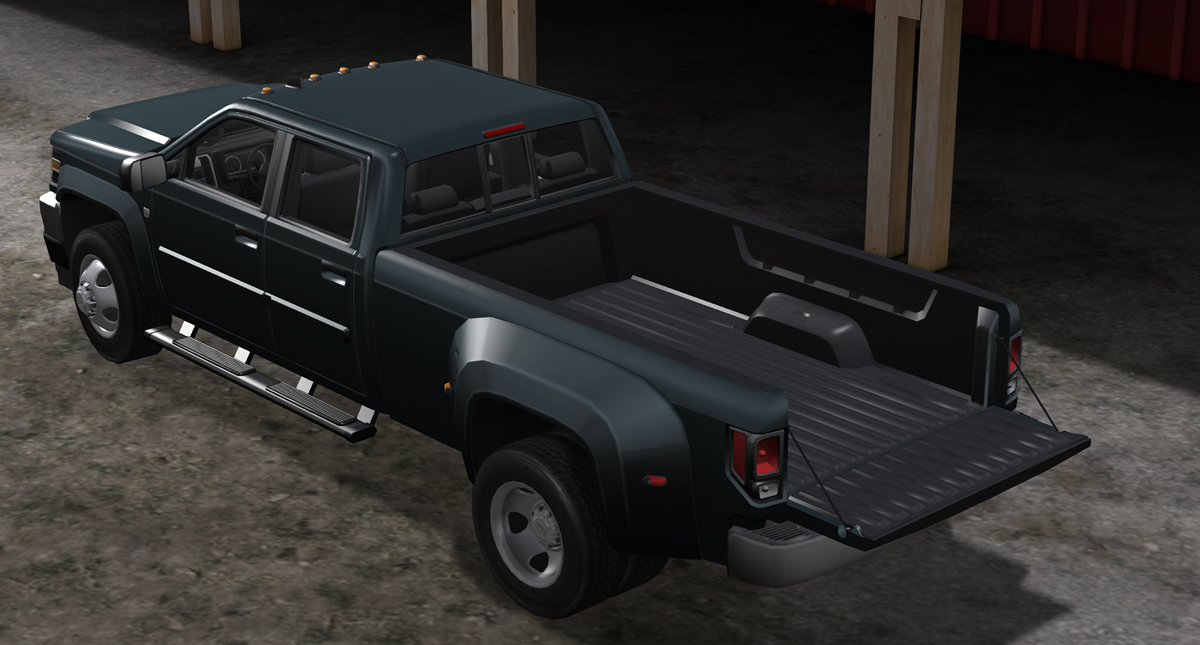 | | |
| --- | --- |
| Big ideas, compact scripts. | It's incredible how we're able to fit this much smart design into the new Paladin while improving script performance. Everything has been rewritten from scratch to make use of the most efficient scripting methods possible while not skimping on the laundry list of features that make SZYM the go-to brand for realism and versatility. Get inside and you'll immediately see why we don't think anything else comes close to this level of interactivity and intuitiveness. |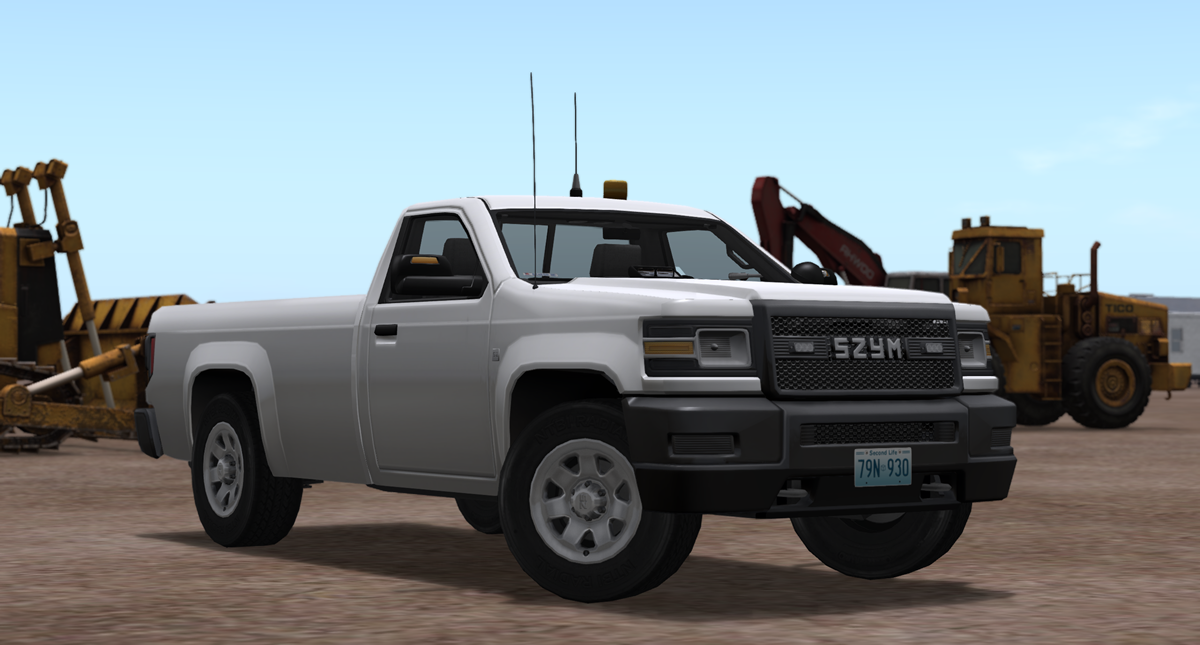 Build it
our way, or
your way.

The new Paladin is a fully modifiable object (no modify scripts) that you can edit to your heart's content, or you can just use our next-generation Web Setup that makes configuration a breeze. Plus, we've documented almost every single link message, config value, and ECU variable, so you can change virtually everything about your Paladin and sell your own modifications.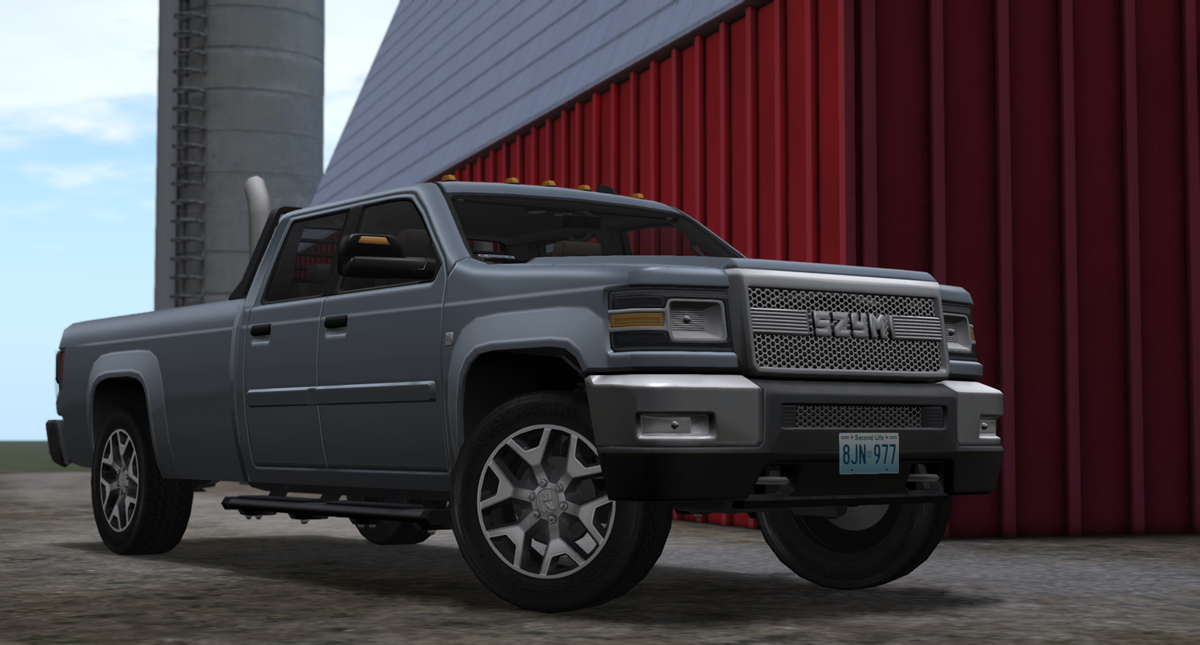 The SZYM Paladin 7 comes with SPT3, a completely rebuilt powertrain and script package that includes:
Engine Options - 4.6 V8 Proto gas engine or 5.0L V8 Trenton Turbo Diesel engine with different exhaust and sound effects
Automatic Transmission - control your vehicle's target speed and let the transmission handle the rest
Predictable Steering - turning is always stable wherever you are with lag-adaptive scripting
Improved Suspension - feel the momentum as you lean in all directions, now with rollover prevention
Collision Simulation - sliding and crashing sound effects for different collision types with friction physics and unflip hotkey
Adjustable Ride Height - optional ride height adjustment switch in cab raises or lowers suspension as needed
Global Fuel System - complete GFS opt-in integration for simulated fuel use
Web Setup - configure paint, wheels, interior trim, and dozens of other factory options seamlessly on the web in real time
Keyring Access Control - grant access to multiple users and groups remotely, a groundbreaking feature for fleet managers
Passenger Lockout - passengers without access can yank door handle but can't sit inside unless the door is already open
Easy Seat Selection - just sit on the door closest to the seat you want (except bed sit positions and 4DR rear center seat)
Adaptive Interactivity - interactive vehicle features automatically accessible by passengers, unless they're handcuffed
Full Object Modifiable - attach and remove aftermarket modifications made by anyone, or even remove factory parts
Complete Documentation - full owner's manual plus modification guide with everything you need to script aftermarket mods
Global Mod Link System - GMLS-compatible mods can be installed by just linking, and it's easy for builders to set up
Dynamic Animations - climb in, shut the door, turn the key, and put it in gear, plus handcuffed animations for some seats
"Get Out" Option - opens your door and moves you outside the vehicle so you're not standing on the roof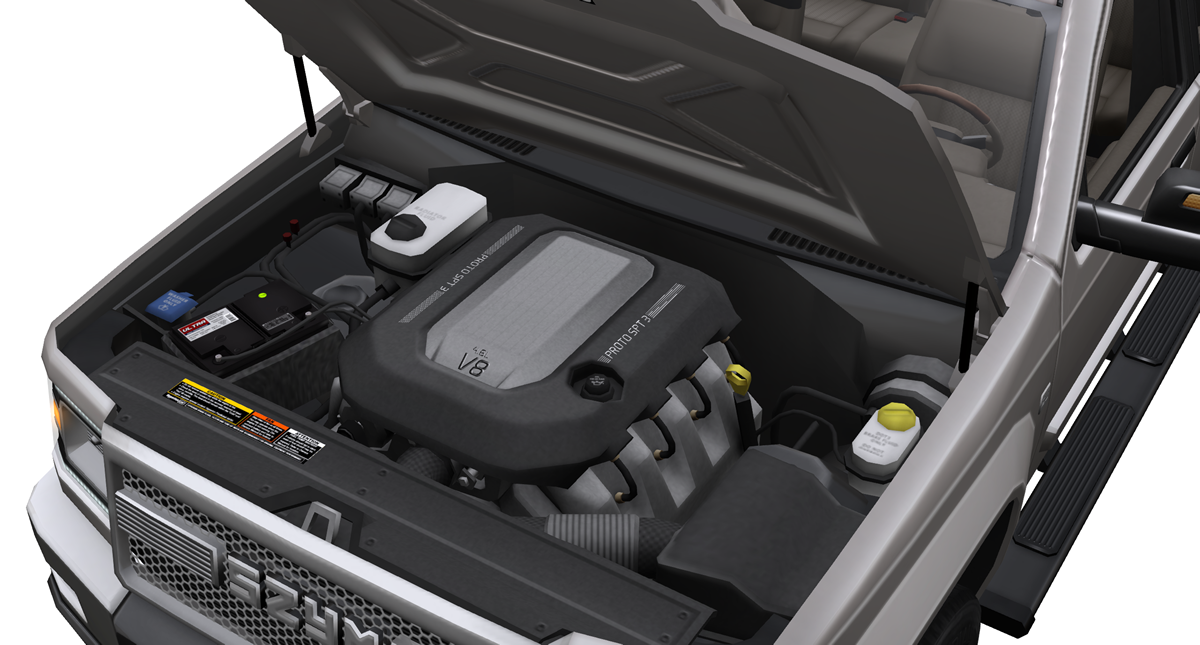 Just some of the exterior features:
Fully-Mesh Body - made-from-scratch model with original design, no rip-offs, knock-offs, or unoptimized components
Custom LODs - keeps your vehicle visible from any distance, while others just collapse into a few triangles
Paint Options - 18 paint colors, 4 base emergency vehicle themes, and easy .PSD templates for custom designs
Wheel Options - 8 wheel types with optional extended hubcap for moderate-duty and heavy-duty rims
Tint Options - optional 40%, 20%, 5%, and windshield tint, with automatic cutouts for police lighting if equipped
Fading Lighting - headlights and taillights fade on and off like real incandescent bulbs with projected lighting effects
Automatic Headlights - sun-based automatic headlights plus optionally lockable courtesy exit lighting
Additional Lighting - parking lights, optional DRLs, low and high beams, optional fog lamps, and optional marker lights
Smart Turn Signals - shut off automatically after you've completed a turn, not just after a set period of time
Smooth Doors - super-smooth lag-adaptive doors, hood, tailgate, and glovebox
Global License Plate System - versatile GLPS plates with automatic numbering, full customization, and adaptive sizing
Factory Bed Cap - body-colored bed cap with hydraulic glass hatch to protect weather-sensitive loads
Exterior Options - bed, bumper, and grille colors; optional rear window rack, dual stack exhaust, and running boards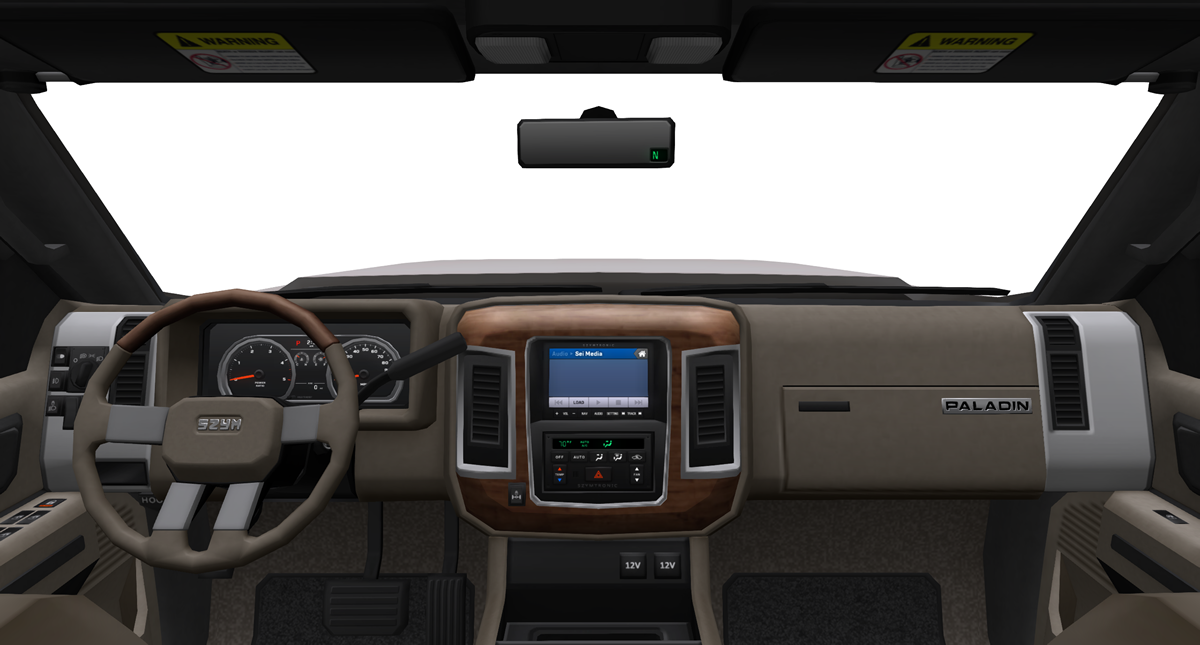 Interior features include:
Interior Options - 9 interior trim options, with Base, HX, and HXL trim level styles
Floor Mats - optional carpet or rubber floor mats, or no floor mats for base models
Detailed Gauges - modern gauge cluster with smooth dials, odometer, trip meter, and digital message center
Interior Touch Zones - click and drag the gearshift and turn signal stalk, or click to turn the key or flash high-beams
Mesh Road Axle Lock - in-cab and HUD button to lock the drive axles on incompatible mesh roads and poor terrain
Simulated A/C - cool off on a warm day, or vice versa, using the removable air conditioning module
Power Driver Seat - move driver seat forward, back, up, and down to fit your avatar, with user memory recall
Power Tilt Wheel - move steering wheel up and down for better gauge cluster visibility
Sun Visors - lighted mirror sun visors for driver and passenger (automatically removed if front Agent 4X MAX installed)
Automatic Windows - smoothly-animated door windows with optional one-touch control, plus rear sliding window
In-World Nav System - SLURL or address-based navigation with voice prompts, plus Sei Media, all in native LSL
Full Metric Support - all vehicle components can be switched to metric with a single option in Setup
Auxiliary Switches - three in-cab and HUD switches for aftermarket equipment
Hood Release - access-controlled hood release latch to show off the fully-modeled engine bay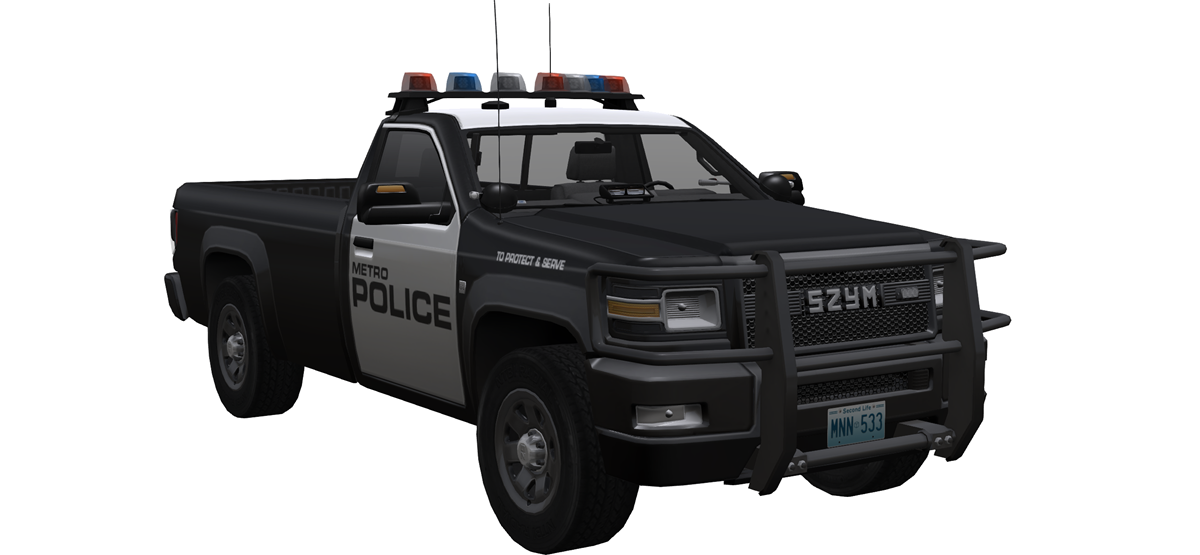 Includes the following police and utility equipment:
360 Degree Spotlights - supports up to two NTBI Integrity spotlights, which can be aimed anywhere with mouselook
Customizable Pushbar - optional pushbar with 6 variants from basic to full grille wraparound
Grid-Standard Lightbars - easily install NTBI Priority 4X MAX, Agent 4X MAX, and Vertex 4 lightbars on any variant
Multi-Lightbar Support - install more than one type of lightbar at once, some with special combined operating modes
Strobe Lights - select up to 4 sets of strobe lights (8 customizable light modules total) with 21 synchronized patterns
Hideaway Lights - optional colored hideaway LEDs in headlights, reverse lights, and fog lamps (if equipped)
Wig-Wag Flasher - optional wig-wag head/tail flasher module with selectable headlight pattern
Custom Colors - per-LED-module color customization for virtually any preferred lighting configuration
Improved Lighting Colors - more detailed, realistic light textures for better visibility compared to previous models
Dual-Color Patterns - MAX lightbars and hideaway LEDs now include dual-color LEDs for high-visibility flash patterns
Siren Options - choose from 12 different sirens custom-designed with reverb effects
Aftermarket Dome Light - optional red "ticket light" for better night vision
Window Switch Delete - rear window switches can be disabled for police vehicles
Reversing Beeper - automatically sounds when reverse gear engaged if equipped
Antenna Options - optional factory radio antenna plus four aftermarket antenna options
Global Vehicle HUD - new responsive HUD with programmable four-position switch and front passenger dual control
Gesture Control - operate lights, siren, turn signals, horn, and even Get Out using GVHUD gesture hotkeys
Handcuff Support - selectively handcuff passengers, or use free, fully-compatible Tredpro Standard Handcuffs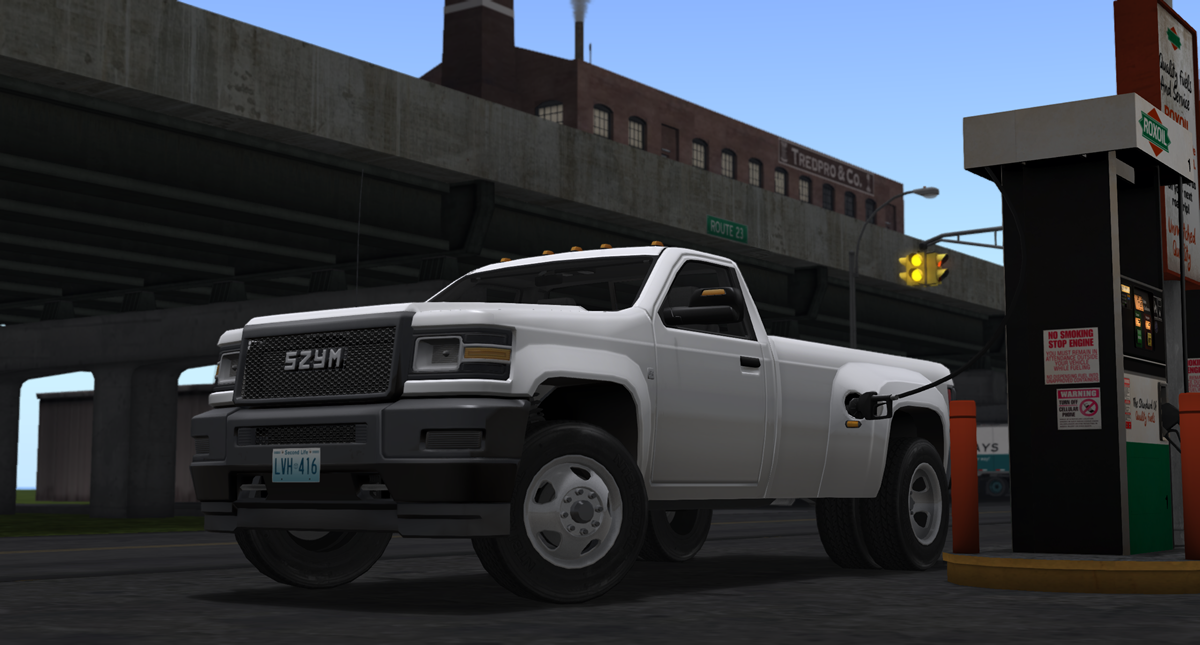 Available for purchase right now on the Marketplace or at the Prototype Gardens Mall.
Buy on Marketplace and leave a review to get a 10% rebate automatically!